The Autumn-Winter Mag is here!
The leaves are falling and the morning freshness is appearing... Autumn is already here and winter is getting ever closer... Estérel Côte d'Azur Fall-Winter Mag is out! It is available at all tourist information points and shops in and around the Var.
Practical, informative and attractive, Estérel Côte d´Azur Mag takes you on a journey of discovery through a territory all in red and blue.
A real mine of information and good ideas!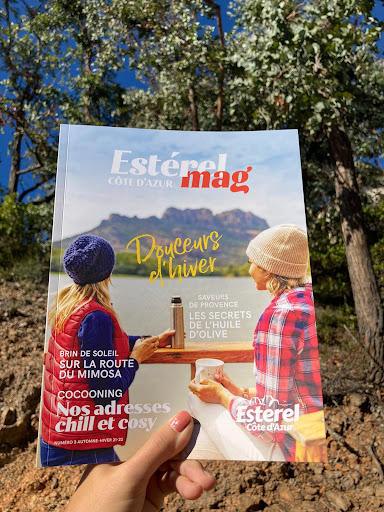 📔 Companion of your stay, browse its 75 pages and its main themes :
Breathe: Discover our top hikes, cross the largest mimosa forest in Europe,
Relax: Want the unusual, sea air, family moments, or cocooning … Find all our ideas for stays,

Be inspired

: Retrace the history of the Belle Epoque villas, let yourself be carried away by the magic of Christmas,
To savour: Taste a good tapenade, Agay's mimosa, experience a real Provencal Christmas thanks to our recipes and our essential addresses,
Move: Introduce yourself to golf, experience diving in winter or try kite-surfing.
The Magazine offers experiences to live in the destination, good tips whispered by locals and intimate encounters.
There is something for everyone : the top of the hikes, traditional recipes, unusual places, our chill and cozy addresses, the portrait of Martine and her santon workshop, the best golf courses…
Also available in your tourist offices ℹ️ find the list here